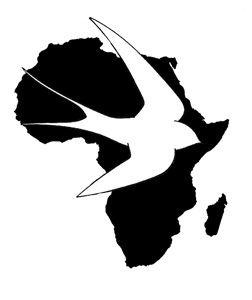 Welcome to the new SAFRING website.
To log into the site, use your email address and EITHER your ADU number or your SAFRING number. The password is the same password used for all ADU projects.
If you do not have a password, follow this link to generate one for your account.

SAFRING's mission: SAFRING is based at the University of Cape Town and provides bird ringing services in South Africa and other African countries. This entails providing ringing equipment to qualified ringers, and curating all ringing data. SAFRING communicates with ringers and interested parties through annually publishing one or two issues of a newsletter, Afring News, and by maintaining a list server. SAFRING holds national training courses, annually if there is sufficient demand. SAFRING liases with the provinces who have the responsibility of issuing permits. SAFRING has a strict code of ethics to ensure the safety of birds handled. SAFRING acknowledges the importance of bird ringing in that it has been described as the most important tool in ornithology in the 20th century.
The South African Bird Ringing Unit (SAFRING) administers bird ringing in southern Africa, supplying rings, ringing equipment and services to volunteer and professional ringers in South Africa and neighbouring countries. All ringing records are curated by SAFRING, which is an essential arm of the Animal Demography Unit. Contact is maintained by the SAFRING Project Coordinator with all ringers (banders in North American or Australian terminology).
Biodiversity Southern Africa Confere
Carvern Jacobs (2013-12-06)
The Longevity of birds in the SAFRING database
The aim of this investigation was to establish a longevity record for all the bird species recorded in the SAFRING database. The longevity records of all species was compared to their body size as a measurable physiological time scale. This study will also be one of few studies to establish a longevity record for bird species of the southern hemisphere.
There is a tendency for avian life span to increase with body mass. Bigger bird species tend to live longer than smaller birds. Avian longevity varies across the 28 avian orders found. Influencing factors are number of birds ringed
http://safring.adu.org.za/ring_info.php?ring=FH38584
Carvern Jacobs (2013-11-27)
A team from the Bird Migration Research Station in Poland has joined Barberspan's rangers on a bird-ringing expedition at the sanctuary in NW Province, where between birds they are preparing the venue for the ringing conference from November 28 to December 2. 


The Poles have been awed by the number of migrants coming from their side of the world they have ringed at Barberspan, including Yellow Wagtail, Garden Warbler, Spotted Flycatcher, Willow Warbler and Red-backed Shrike. But they have been equally impressed by 

 

variety of residents they have caught, ranging from wood hoopoes to Namaqua Doves. The wader traps on the shores of the lake have caught Little Stints and Kittlitz's Plovers, but the Grey Plovers, Ruffs, Ruddy Turnstones and Eurasian Curlew. The rangers set up and baited the duck traps in anticipation of the conference and hundreds of 

Cape Shelduck

 are lounging about them.
 

Early summer at Barberspan this year is providing better than usual ringing and birdwatching opportunities. You still have an opportunity to join the migrants at this year's ringing conference: 

http://safring.adu.org.za/content.php?id=17
Development of Southern Masked Weaver chick
Dieter Oschadleus (2013-11-06)
On 2 Oct 2009 I ringed 2 Southern Masked Weaver nestlings in a colony of bamboos in Elfindale, Cape Town (same colony photographed in different years, see here). The older chick, ring BE58110, has been recaptured 3 times during normal mist-netting. In its first year, the bird had partial breeding plumage. From its second year it obtains full breeding plumage, as shown in its fourth year below. Read more about the ringing of the weaver chicks here and about earlier results here.
Arrival of the Barn swallows
Carvern Jacobs (2013-10-29)
All ringers, birders, nature enthusiast and families are invited by www.barnswallow.co.za to one of Kwazulu Natal's most natural amazing phenomena's this year. The annual arrival of the Barn swallows is taking place on Sunday the 10th of November at Mount Moreland. As the poster says bring a picnic basket, sundowners, seats, binoculars, mozzie cream and experience the majestic arrival of the swallows.
Venue: Take the Umdloti Beach/ Verulam off ramp from the N2, turn left towards Verulam. 1km, turn right to Mt Moreland. Follow the "Barn swallows site directional boards on route to Mount Moreland.
Time: 4.30 for 5pm
We ask for an entrance donation and have information booklets and swallow trinkets on sale
See you on the Lake Victoria Viewing site
Best Wishes
Angie
Passing away of Jan Hofmeyr
Dieter Oschadleus (2013-10-25)
Jan Hofmeyr passed away on 23 October 2013. Jan was one of the stalwarts of birding in the greater Cape Town and Western Cape areas. He was an active ringer, chairman of the Cape Bird Club in the very early 1980s and inspired many young birders.
Jan was involved in birding for many decades and his first bird was ringed in 1972! He ringed many Barn Swallows, waders and fynbos birds but in recent years focussed on more difficult targets. He spent several weeks trying to catch flamingos at Strandfontein for a tracking project, and he persevered until he succeeded. He also has ringed more White Storks in southern Africa than anyone else. In the photo he can be seen with a White Stork nestling on top of the monkey cage at the Tygerberg Zoo.
Our condolensces to to June and his family, and friends.
The funeral will be at the Rosebank Methodist Church in Chapel Road, Rosebank, on Monday 28 October at 3pm.