A Short History of SAFRING - Part 1
---
Dane Paijmans and Dieter Oschadleus(2017-09-01)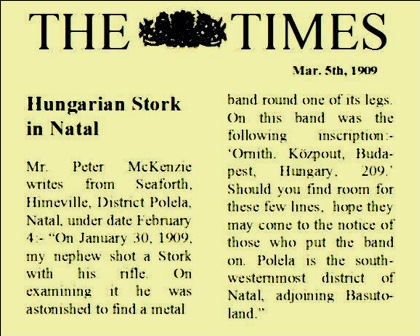 The First South African Ring Record!
Even at the age of 69, SAFRING is still young in comparison to some of the worlds oldest ringing/banding schemes (British Trust for Ornithology >100 years (1909), Bird Banding Laboratory - Patuxent Wildlife Research Center >90 years (1923), Australian Bird and Bat Banding Scheme >60 years (1953), and EURING > 50 years (1963); which comprises the oldest active ringing schemes (i.e. the Hungarian Ornithological Centre est. 1908)).
As a result of these schemes earlier efforts, we have many retrap/recovery records dating back to the early 1900s. The earliest record in our system dates back to 1909 where a White Stork ring was recovered after being shot in KwaZulu-Natal. It had a Hungarian ring 209 which had been put on the stork chick in Romania in the previous year. This was the first scientific evidence of a migrant crossing the equator.
Following this recovery there were many more White Stork ring sightings over the following years (Ring: VIB00198 in 1911 from Denmark, Ring: 287 in 1910 from Hungary, Ring: 2199 in 1910 from Hungary, Ring: 2298 in 1909 from Romania). The first sighting of a bird ringed in Britain was a swallow seen in 1911 (Ring: B830). To read more on this sighting please Click Here.
To read more on SAFRINGs history please
Click Here
.